21 Mar

Introduction to Paginated Reports in Power BI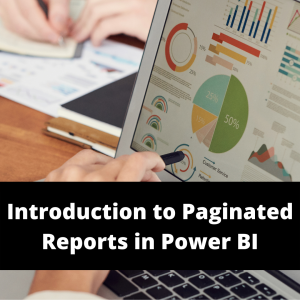 Paginated reports are defined as highly formatted, pixel-perfect output result, reformed for printing or used for PDF generation. They are called "paginated" because they are designed to suit well on multiple pages and as well display all the data in a table, even if the table spans multiple pages. This Paginated reports are also perfect for operational reports, like sales invoices, report cards e.t.c. This article will introduce you to Paginated reports in Power BI. Let's jump right in.
Requirements
A user needs a Power BI Pro license to publish a report to the service.
You need to create a workspace in Power BI services and assign a dedicated capacity for paginated reports.
In a Premium Gen1 capacity, a Power BI admin must enable paginated reports in the Premium capacities section of the Power BI admin portal.
Comparison between Power BI Reports and Paginated Report
Paginated reports doesn't possess built-in data models like Power BI reports. A paginated report contains various built-in chart options including table, matrix, gauge, maps, sparklines, and different other chart types
The supremacy of paginated reports is their ability to print all the data in a table, no matter how extended it takes. Also, printing is easier in a paginated report for a table, for instance, when a user prints or exports to PDF, the paginated report can contain as many pages necessary to print every row in the table.
The Use of Report Builder
Paginated reports possess its own design tool; this design tool is known as the Power BI Report Builder. This tool has same functionality as the tools used for creating paginated reports for Power BI Report Server or SQL Server Reporting Services(SSRS).With the use of this report builder we can preview the report before publishing to the Microsoft Power BI service.
Data Modification: A user can group, filter, and sort data for paginated reports when using the report builder. A user can as well add formulas to their reports.
Report Modification: Power BI Report Builder allows users to update and customize the reports created with the SQL Server Data Tools (SSDT) Report Designer.
Multiple Layouts: A user can as well create Paginated Reports for matrix reports, column-based data for summarized data, chart reports for graph-based data e.t.c.
Reporting from Multiple Sources: It also allows users to create reports that draws relational and multidimensional data from various sources like SQL Server and Analysis Services, Power BI datasets, etc.
Data Sources
With a single paginated report we can have as many different data sources and this makes it differ from Power BI Reports Data Model. We can also create embedded data sources and datasets inside the paginated report. These are some of the data sources we can connect to:
Power BI datasets
Oracle
Teradata
Azure SQL Database and Azure Synapse Analytics (via Basic and OAuth)
Azure Analysis Services (via SSO)
SQL Server via a gateway
We can also export paginated reports in any of this various formats such as; Excel / CSV, PDF, Word, HTML and MHTML, XML.
Today's article introduced you to the basic things you need to know to start using paginated reports. We hope you will begin to explore all its features. Comment down below your observations or questions while using paginated reports in Power BI. Thanks for reading.